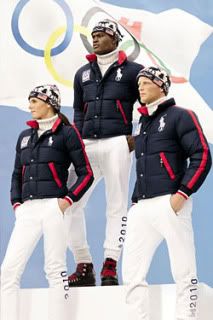 For the upcoming Vancouver Olympics, the U.S. delegation will apparel from Polo Ralph Lauren. The Olympics apparel be comprised of upgraded versions of the traditional red and navy down jackets and wool knit caps. To see the collection, watch out for the opening ceremony of Vancouver Olympics on February 12.
Here's some good news for the U.S. Team fans, you can also wear the U.S. Olympic Collection that cost $10- $495.

This collection is available in selected stores across U.S, and Canada. you can also check the official site of Polo Ralph Lauren.